Plush
Stuffed toys, large and small!
Last updated: April/6/2014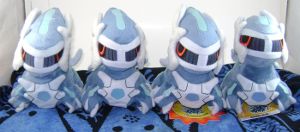 Pokedoll - Japanese and American releases
ディアルガドール
Source: PokemonCenter.com, Pokemon Center Tokyo, lampent and dionashi of pkmncollectors
I bought the first version of this doll before I started collecting Dialga, back when I was just collecting Pokedolls. Did it have a hand in starting the collection? It's possible!
You can click the names in the list below to see the tag for each version: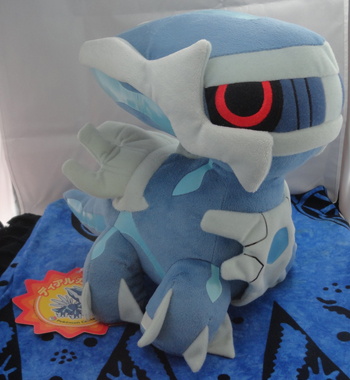 DX Pokedoll
ディアルガドール 12インチ
Source: Pokemon Center (Tokyo, Japan)
Before I went to Japan, I had all of the Dialga plush I'd ever seen. So imagine my surprise when I walked into the Pokemon Center and saw this one! He is much bigger (about twice the height, or 12" tall) compared to the standard Pokedoll.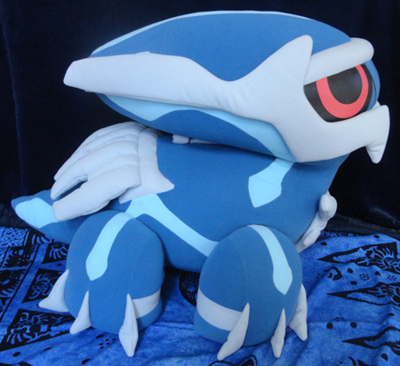 Pokeball Challenge Lottery Prize: Giant Pokedoll
モンスターボールチャレンジ2007スーパービッグサイズ ディアルガドール
Source: Yahoo! Japan
Here we have the largest and rarest of the Dialga Pokedolls! I first came across a photo of this guy on the side of a box in 2008, but could find no other photos or blog posts about him for nearly 6 years. Finally, in March 2014, he appeared on Yahoo! Japan, and now he crowns my Dialga collection! To my knowledge, I now have all of the official Dialga plush ever made. :D
To provide a little more detail about his origins...as far as I can tell, he's from the Ichiban Kuji Pokeball Challenge 2, held in spring 2008. Each purchase of a Pokeball with a random toy inside contained a ticket, which had a very small chance to win you either this Dialga or the matching Palkia. I've not been able to find out how many of each were released, but based on similar prizes, I would guess somewhere between 5 to 25 each of Dialga and Palkia.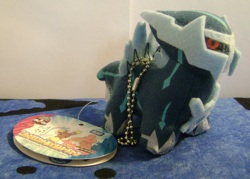 10th Movie Mascot Keychain Plush
ころっとマスコットぬいぐるみキーチェーン
Source: Yahoo! Japan
I have gone through a bit of history with this smallest of Dialga plush.
First, I saw them on eBay quite a bit and thought that it had to be a bootleg, since I never saw it from any other sources. The size and shape were too cute to resist, so I bought it and had it featured on this page for quite a while.
Then in early 2010, ambertdd of pkmncollectors found a set of official Dialga, Palkia, and Darkrai keychain plush, and showed me the auction! I now had an official version with the keychain and tush tag, and the latter reveals that he was actually made by Takara Tomy.
But, it still bugged me that he was missing the hang tag...so in mid 2011, I found yet another set in like-new condition, with both tags and a shiny new keychain attached. Here he is!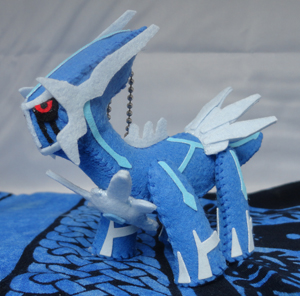 Felt Plush Kit (completed)
フェルトマスコット
Source: Yahoo! Japan and ambertdd of pkmncollectors
I had this kit on my 'other' page for years, since it wasn't actually a plush, just a kit to make one. But my plushmaker friend ambertdd kindly assembled him for me, so now here he is, all perfectly put together!
You can see a few more views of him here and here.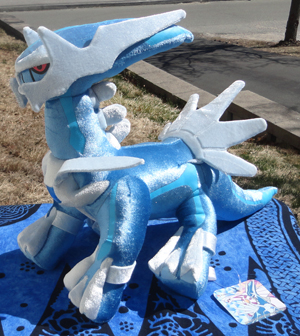 Sparkly Pokemon Center Plush
ポケモンセンターぬいぐるみ
Source: Yahoo! Japan
I bought this on Yahoo! Japan thinking it was about the size of the Pokedolls if not smaller, but to my surprise it's about 12" tall! Those crazy Japanese sellers never putting any sizes in their descriptions..
This is actually a fairly rare plush, dating from the initial release of Diamond and Pearl.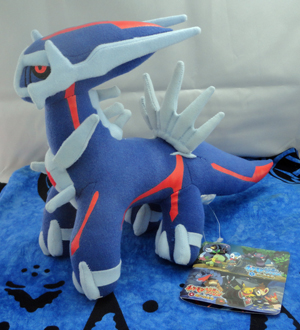 Primal Dialga (of Mystery Dungeon 2)
ぬいぐるみ闇のディアルガ
Source: eBay
I was really excited when I saw a photo of this plush on the old Pokemon website because it has the colors of my hometown's college. I searched for it for a while before someone pointed me to an auction on eBay I'd overlooked. Thank you!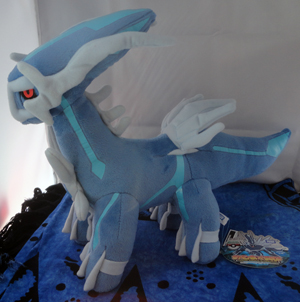 2009 Tomy Plush
タカラ トミー ぬいぐるみ (2009)
Source: Sunyshore!
When I first saw preview pictures for this plush, I thought it was a reissue of the 2007 18" plush with new fabric, but it's actually a totally different plush - other than the fabric change (which is the same as the 24" Tomy below), it's much smaller and the fins are just fabric instead of fabric with some stiff material (plastic?) inside.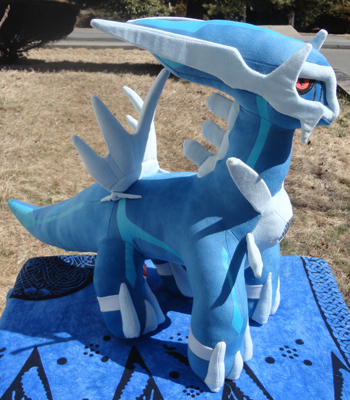 18" Tomy Plush (Japan)
タカラ トミー ぬいぐるみ
Source: eBay
I was thrilled to find this plush on eBay but wasn't sure I could believe the size, so I made a post about it in pkmncollectors. Someone told me not only is it really that big, but that there's an even larger version! Of course, I had to get that one too, as soon as possible.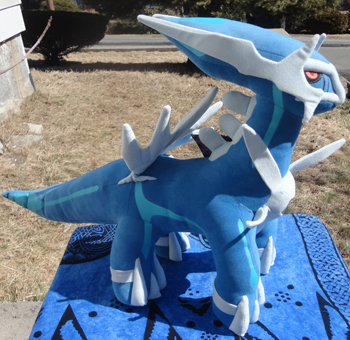 Jakks Pacific Plush (USA)
アメリカ製 ジャックスぬいぐるみ
Source: eBay
If you can't immediately tell this plush from the one above it...well, I can't either! I think there was some difference with the chest jewels between these two, but the easiest way to tell them apart is by the tags. It seems like this plush is a reissue of the Japanese plush, but by a different company.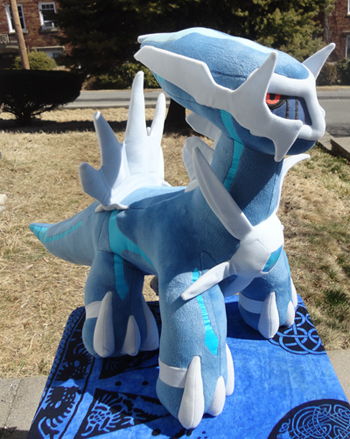 24" Pokemon Center Giant Tomy Plush
ビッグサイズぬいぐるみ
Source: Yahoo! Japan
Some people refer to the Jakks Dialga as the 'giant Dialga' plush. But, at a good 6 inches taller, this one is the real giant Tomy Dialga! A wonderful plush, and much easier (and cheaper) to come by than other giant Tomys such as the beast trio, Lugia, Lapras, and so on. These toys did not seem to sell very well, so as of 2014, it's still possible to find them online for about the original retail price.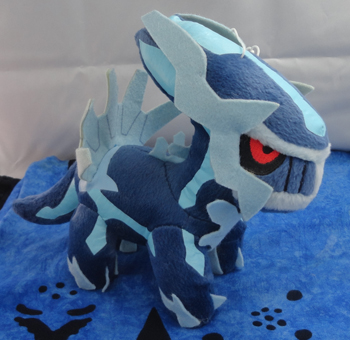 Banpresto UFO Plush (first release)
コロッとまんまる ぬいぐるみ
Source: I don't remember..maybe eBay?
I wasn't collecting Dialga back when this guy was initially released, but he was probably one of Dialga's first official plush!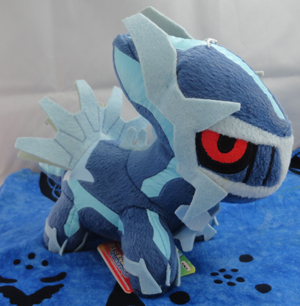 Banpresto Plush (second release)
コロっとまんまる ぬいぐるみ 〜ディアルガアソート〜
Source: grrrowly of pkmncollectors
This is pretty similar to the other, but is a little more chibi. He's from a 2007 set, named after Dialga because he's in the most important Pokemon in the set, naturally.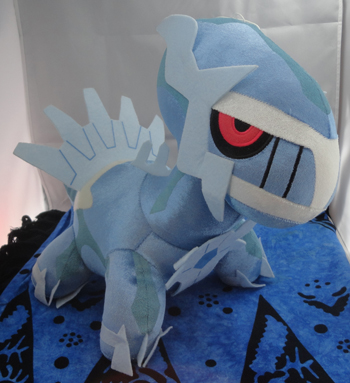 Shimmery Super DX Banpresto UFO Plush
スーパーDXコロっとまんまる ぬいぐるみ
Source: Yahoo! Japan
Like Dialga's other large Banpresto plush, this one has a large head that's difficult to balance correctly. But it's still cute! This plush was likely released as part of the Darkrai movie promotion in 2007.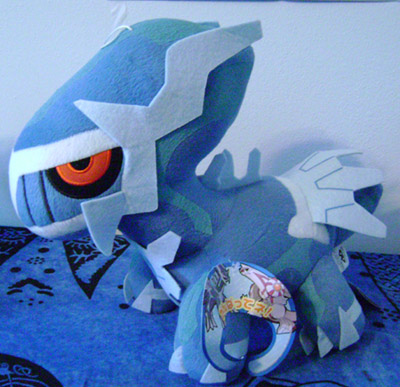 Super DX Banpresto UFO Plush
スーパーDXコロっとまんまる ぬいぐるみ
Source: eBay
The non-shiny version of the one above. I think this version is a little rarer, and at least on mine the neck isn't floppy like it is on the shimmery version.